Celebrate your special occasion
Having a party? We do Catering!
We can help you celebrate your special occasion to be a memorable and with most reasonable cost.
We are your one-stop solution for any occassion!
We can help you host a Baptism, Christening, Birthday, Red Egg and ginger Party, Baby shower, weddings, engagement parties, sweet 16, graduation parties, anniversaries, Funeral Reception and corporate events. We can accommodate any Private event with private Banquet Room with Dance Floor for up to 300 people per room. 
Baptism / Christening / Birthday / Graduation / Wedding Anniversary • Red Egg & Ginger / Baby Shower Funeral Reception / Death Anniversary / Fund Raising / Church Activities Corporate Functions / First Communion / Welcome Party
Restriction may apply and see manager for detail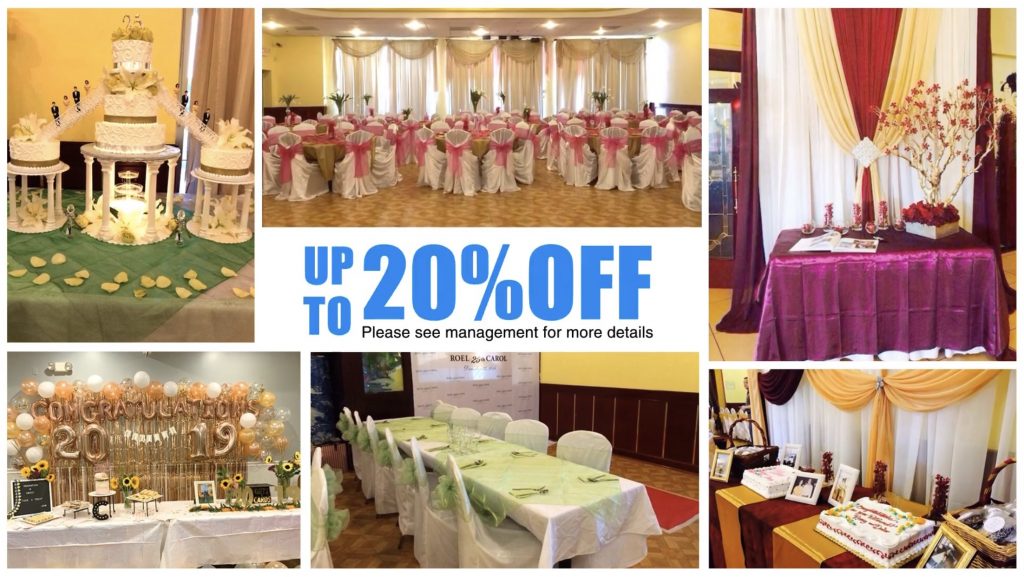 Additional Banquet service, and Decoration are Available  Upon Request.
Table Clothes, Runner, Overlay
Chair Cover with Ribbons (All Color Available)
Backdrop, Sweet Heart Table, Head Table
Cake Table, Gift Table, Candy Bar Table, Dessert
Table, Reception Table Carter Pieces (Fresh
Flower), Balloons All Colors and much more
Please fill out our form below and our events coordinator
will get back to you within 24 – 48 hours.